admin_news
Use & care of cast iron
Grill pans and plates and other cast iron items
Preconditioning:

First-time use: lightly oil the grill pan and put it in the oven for 45 minutes at 200°C. If used on the gas stove, regulate the heat so that the flame doesn't lap over the lower edge of the pan; heat slowly until the oil evaporates. Let the grill pan cool down and then wash it without soap. This procedure will create a thin natural non-stick coating and must be done only for the first use.
Use and care:

– Do not put the hot grill pan in cold water; wait until it completely cools down.

– Remove any trace of food stuck on the surface by soaking the grill pan in water for a reasonable length of time. Wash the grill pan using regular liquid dish shop and a soft sponge or nylon scourer.

– Always dry carefully the item and make sure that all the humidity is evaporated.

– Lightly oil the grill pan before putting it away.

– Do not scratch the cooking surface when turning or removing food.

– We recommend hand washing the grill pans.
GENERAL INFO
About the use of grills on glass ceramic hobs
Do not slide, bang or drop the grill on the surface, as this may damage the hob. Always lift the grill pan.
About grill use on induction hobs
It is recommended to gradually heat the grill pan, using 1/3 of the maximum power for at least 5 minutes. Only then increase to a middle-high level power. Avoid using the Booster function.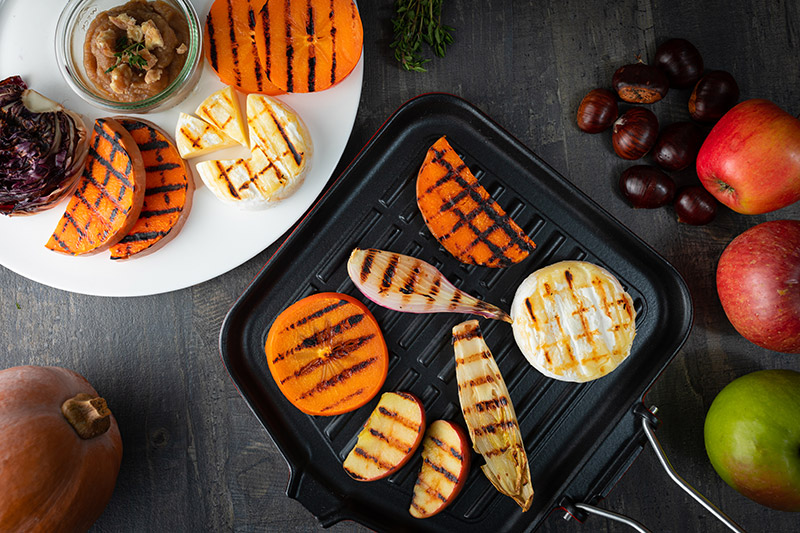 Grilling tips
This procedure involves high temperature and it is ideal for creating an outer crust on your food while leaving the inside part tender and juicy.

Cast iron is indeed perfect for grilling meat, fish and vegetables.

Put the grill pan on the heat source at a medium-high temperature and heat it for a few minutes.

Then place the food on the surface: grilling time depends on the type of food and its thickness.