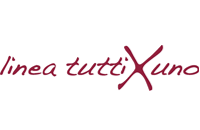 Everything that you might need in your kitchen drawer!
Over fifty items dedicated to cooking and food preparation.
Professional kitchen utensils in steel and aluminium, spatulas and scrapers, pizza cutters, paring and decorating tools, scissors and table knives: everything you need, in one line!


The tuttiXuno line includes 6 series, with diverse materials and functions:
– professional kitchen tools: fruit ballers, decorators, paring knives and special items for citrus fruits and vegetables;
– spatulas and turners in the "Chef" and standard versions: rigid, straight, offset, …. for lasagne, for hamburgers, for desserts!;
– professional tools for pizza: triangular and rounded spatulas, pan tongs and spatulas;
– professional aluminium utensils: apple slicers, egg slicers, olive/cherries stoners, nutcrackers;
– table knives: steak knives, pizza knives, forged knives, smooth blade knives….
In the vast assortment of tuttiXuno you can find everything that you might need in your kitchen drawer, for professional and home use; from the squeezer to the spatula for decorating your cake!
What you need…
…and what you didn't know you actually needed!