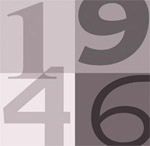 Quality, know-how and professionalism:
three facets of the brand's philosophy.
The 1946 is a brand that encompasses the historical articles of the company.
It is a celebration of those articles that over more than seventy years have remained to be indispensable regardless of the changing trends and styles, becoming truly must-haves.
It is our way of choosing items that give you the feeling of "home".
The 1946 offers you the sensation of living distant dimensions inside the everyday home reality. The ideas, shapes and colours of the products convey the distant traditions and essences that represent both harmony and functionality. We have created for you products that have an iconic presence in every type of furnishing and décor.
"We are set designers of images, painters of forms, sculptors of nuances."